Vegetable, meat, curry, plenty of course! If it is now 4500 yen ⇒ 4000 yen (including tax)
Course details
Vegetable, meat, curry, plenty of course! If it is now 4500 yen ⇒ 4000 yen (including tax)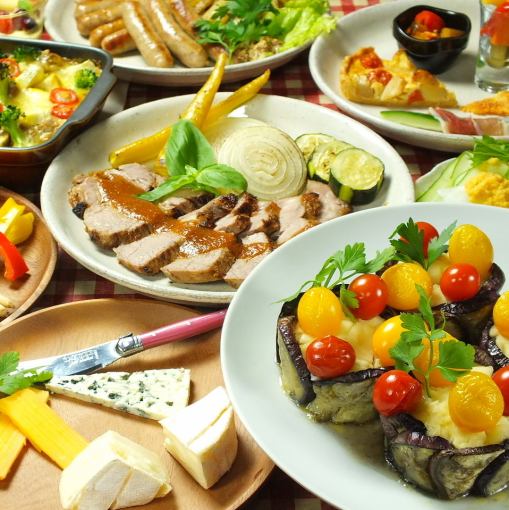 By using a coupon4000 yen
It is a tax-included fee.Cancellation after 2 days is 50% charged.
All-you-can-drink available

All you can drink 2H on course (30 minutes before LO)
Reservation deadline

Two days before 21 o'clock on the desired shopping day
Available days for reservation

Monday · Wednesday · Sunday · Holiday before holidays · Holidays
A little luxuriously ... ☆ "I want you to eat a lot of vegetables and become healthier from the body ..." A lot of thoughts of such shopkeepers packed, a lot of vegetables collected, plenty of course ☆ Meat dishes also enriched __! Eat vegetables to eat Concentrated curry is exquisite!
Course menu
3 people ~ use OK, reservation is required until the previous day
On anniversary, give a message plate with a coupon
Private place 15 people - At the time of a charter, the projector is available.
【Course content】
1, Vegetable sommelier carefully selected! Volunteering salad with delicious salad and herb chicken
Popular homemade car ginseng dressing
2, Assorted popular seasonal quiche and raw ham
Hand made crispy fabric as well.It's popular since opening.
3, Grill of Izunuma agricultural raw wiener
Handmade at the edge of Izu-numa and wine without close-up is excellent
4. Assorted homemade pickles and potato salad
It is a special pickle with exquisite acidity
5. Assorted homemade smoked dishes
Eggs, pork belly with cheese and so on etc.
6, Assorted sharia pin and steak grill
The meat marinated with onion is soft and slightly sweet
7, Petit Curry (chicken or beef) at the special store's dead
No other flavors in the original recipe ◎
8, dessert
Daily change.Hidden popular menu "Smooth purine using Zaoyama Rie egg" and "Rich Annin tofu" etc.
Depending on the purchase situation, menu contents may be changed, so please be forewarned
All-you-can-drink menu
· ▼ Beer
· Heartland student (Kirin), Kirin Free (non alcohol)
· ▼ Whiskey · Highball
· Horizontal high ball, Bourbon high ball, Scotch high ball, Rita high ball, Suntory angle (straight, rock, water split) * High ball whiskey is also water split · Lock etc OK!
· Authentic shochu
· Black pot (potato), wisdom sword (wheat)
· ▼ Shochu
· Lemon sour, oolong high, grapefruit juice split
· ▼ wine / fruit wine
· 【Wine】 Glass wine (red or white) 【Fruit wine】 Kosumi plum wine, ★ Okoshi plum wine, Fluffy Mirror "Yuzu", ★ Luxury Yuzu
· ▼ Cocktail
· [Cassis] Cassis Orange, Cassis Soda, Cassis Oolong, Cassis Grape 【Peach】 Peach Soda, Regepan, Fuzzy Navel
· 【KARUA】 KAREA Milk, Bitter Kalua Milk 【Campari】 Campari Soda, Campari Orange, Campari Grape, Campari Oolong
· · · 【Red Wine】 Kitty (Red Wine + Ginger Jar), ​​Red Orange (Red Wine + Orange) 【★ Beer】 Bitter Orange (Beer + Orange), Shandigaf (Beer + Gingerlele)
· ▼ non alcoholic cocktail
- Almost plum wine nonalcohol, ★ Bitter Orange Free, ★ Chandigafuf Free, Non Aluminum Mushroom, Russian Heart, Kiwi Lemonade, Ice Tea Soda
· ▼ Soft drink
· Ginger ale, ice coffee, ice tea, orange juice, grapefruit juice, oolong tea
2018/12/15 update