★ Drinks attached · Special cheese fondue course ★ Homemade fondue sauce and Shinjutsu compatibility is outstanding
Course details
★ Drinks attached · Special cheese fondue course ★ Homemade fondue sauce and Shinjutsu compatibility is outstanding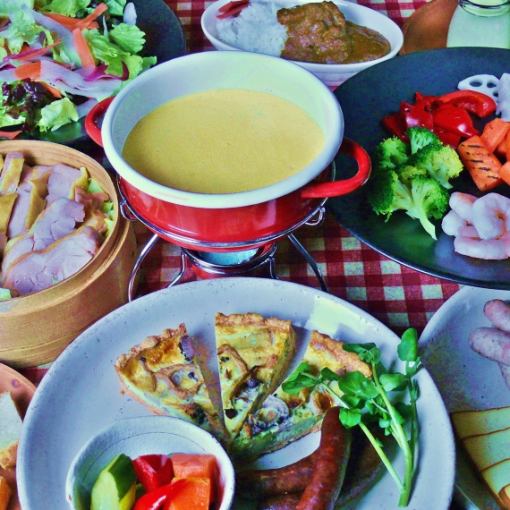 By using a coupon3800 yen
It is a tax-included fee.
All-you-can-drink available

All you can drink 2H on course (30 minutes before LO)
Reservation deadline

Up to 18 o'clock yesterday on the day before the desired store visit
Available days for reservation

Monday · Wednesday · Sunday · Holiday before holidays · Holidays
Chewing cheese and sweet and carefully selected vegetables are preeminent compatibility! Classic quiche also contains homemade smoked products.And the meat dish after the fondue is cooked in a steam cooker.In the steaming process, the fat of the meat falls moderately and it is healthy & refreshing finish.It is a balanced course content!
Course menu
Levels of liquid - crystalline substances are as follows.
※ 2 people ~ use OK, reservation required until the previous day
※ For anniversary, present a message plate with coupon
【Course content】
◇ vegetable sommelier carefully selected! Summer vegetable salad
~ Hot homemade car ginseng dressing accompanied ~
◆ Popular seasonal quiche
~ Fabrics are crispy handmade too.It's a popular thing since opening the store! ~
◇ Assortment of homemade smoked and live wiener of Izu-numa agriculture
~ Smoked wiener, cheese etc in our shop! The fragrance is very ◎ ~
◆ Toruroori original special cheese fondue
~ Mixed white wine and several kinds of cheese smoothly ~
~ In the ingredients, examine the vegetables with different coloring and texture, including shrimp ~
◇ Assortment of homemade pickles
~ It is a special pickle with exquisite acidity ~
◆ Steaming chicken and cabbage steaming
~ Steamed vegetables sweet taste up, please wrapped soft meat and eat ~
◇ Petit Curry (chicken or beef) at the end of a specialty shop
~ Original taste and no other taste ◎ ~
◆ Dessert
~ Daily change.Hidden popular menu "Smooth purple using Zaoyama Rie egg" and "Rich Annin Tofu" etc ~
* Please understand beforehand that the contents of the menu may change depending on the purchase situation.
Levels of liquid - crystalline substances are as follows.
All-you-can-drink menu
· ▼ Beer
· Heartland student (Kirin), Kirin Free (non alcohol)
· ▼ Whiskey · Highball
· Horizontal high ball, Bourbon high ball, Scotch high ball, Rita high ball, Suntory angle (straight, rock, water split) * High ball whiskey is also water split · Lock etc OK!
· Authentic shochu
· Black pot (potato), Satsu Baoshan (potato), Intellectual sword (wheat)
· ▼ Shochu
· Oolong high, grapefruit juice split
· ▼ wine / fruit wine
· 【Wine】 Glass wine (red or white) 【Fruit wine】 Kosumi plum wine, ★ Okoshi plum wine, Fluffy Mirror "Yuzu", ★ Luxury Yuzu
· ▼ Cocktail
· [Cassis] Cassis Orange, Cassis Soda, Cassis Oolong, Cassis Grape 【Peach】 Peach Soda, Regepan, Fuzzy Navel
· 【KARUA】 KAREA Milk, Bitter Kalua Milk 【Campari】 Campari Soda, Campari Orange, Campari Grape, Campari Oolong
· · · 【Red Wine】 Kitty (Red Wine + Ginger Jar), ​​Red Orange (Red Wine + Orange) 【★ Beer】 Bitter Orange (Beer + Orange), Shandigaf (Beer + Gingerlele)
· ▼ non alcoholic cocktail
- Almost plum wine nonalcohol, ★ Bitter Orange Free, ★ Chandigafuf Free, Non Aluminum Mushroom, Russian Heart, Kiwi Lemonade, Ice Tea Soda
· ▼ Soft drink
· Wilkinson ginger ale (dry), iced coffee, ice tea, orange juice, grapefruit juice, oolong tea
2018/12/15 update